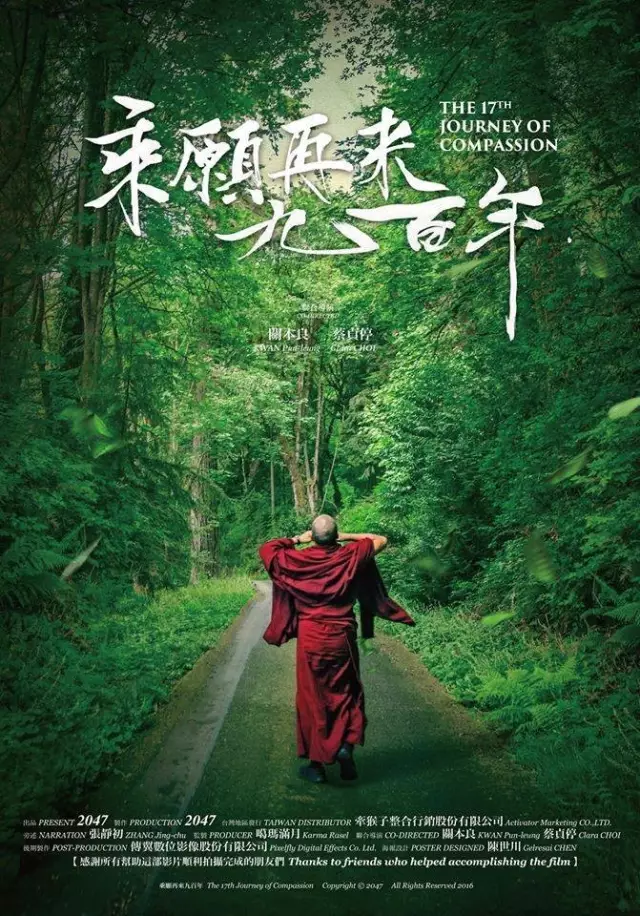 Finally! So happy to get to watch this documentary
第17世大宝法王纪录片《乘愿再来九百年》
during Tergar S'pore's practice session last Sunday.
法王最后开示说:
智慧就是要了解自己的真相,
了解这个世界的真相,
然后知道这个世界跟真实的情况:
整个宇宙、整个世界是相互依存的,
在这相互依存的世界里,
才能找到真正的自己。
未来是无尽,
此生是暂时,
所以我们要为未来打算,
虽然我们死去,
我们的能力还是会存在,
就是如此。
We were also told to discuss what 's the meaning of life after viewing the DVD.
A question that I am still searching for an answer as I am still leading such a mundane life...
After class, more reflection on the question.
Eons vs 900 years vs 80 years of average life span
80 years is nothing ... in comparison yet we made such a fuss out of it that the compassionate Buddhas and Bodhisattvas have to come back for us again and again.
Just 80 years is like eternity to us but in reality, it is just a small fraction of eons.
And yet we are still immerse in this world stage of defilements and ignorance, unable to emerge out of it.
Then the thought: how did the first self-attaching "I" arise?
So had a quick goggle and following related articles shown up with blessings of Triple Gems...
How Were The 'First' Humans 'Created'? (Part 1: Sutta Summary)
Taught by the Buddha, the Agganna Sutta is fascinating because it demystifies many mysteries, such as how the universe, the Earth, humanity, civilisation, defilements and spirituality evolved – with practical perspectives too.
During the previous cyclical contraction of the world system a long time ago, beings were mostly karmically born in the Abhassara (Brightly Radiant) heaven, where they dwelled afloat in self-radiance for a long time, feeding on bliss from meditative absorption. When the world began to expand again, most of them are reborn on Earth. After a long time, a sweet savoury earth spread over its dark waters. One of the beings tasted it on a finger out of greed, and craved for more, followed by the others, as they broke and ate pieces of it. As a result, their luminosity disappeared, and the moon and the sun 'appeared' (in contrast), distinguishing night and day, months and the seasons.
The more the beings ate, the coarser their bodies became. As arrogance and conceit arose when the better looking ones despised the uglier ones, the savoury earth disappeared, leading to lamentations. In replacement, a sweet mushroom-like fungus cropped up, which they ate for a long time, as they became coarser and further differentiation among themselves. With more arrogance and conceit, the fungus disappeared and was replaced by bamboo-like creepers, followed by fragrant rice free from powder and husks, which replenished itself over a day or night. After feeding on it for a long time, female and male beings developed sexual organs, as they became lustfully preoccupied with each other. Those seen indulging in sex were barred from villages for a month or two, while they built dwellings to hide their activities.
It then occurs to one of them to be lazy, to gather rice for both breakfast and supper at once instead of twice a day. Gradually, the others also gathered for more and more days. When the rice was stored, powder and husk began to envelope the grain. Where it was reaped, it did not grow again, and they had to work harder and harder to tend to it for food. Lamenting that wicked ways have become rife among them over time, which affected the changes, they divided the rice into fields with boundaries. When a greedy one stole crops from another's plot, he was caught and reprimanded. However, he repeats stealing, which led some to hit him with fists, sticks and stones.
The beings then appointed the best-looking, most pleasant and capable one to censure and banish those who deserved it, giving him a share of their rice in return. He came to be called Maha-Sammata or 'the people's choice'. Thus began the 'Khattiya' or 'Raja' class, who were supposed to be 'lords of the fields' and 'he who gladdens others with Dharma (Truth and the path to it)'. Some thought that they ought to put aside evil conduct (such as murder, theft, sexual misconduct and deceit) and came to be known as 'Brahmins' and 'Jhayakas', which means 'they who put aside evil unwholesome things' and 'they who meditate'. They made huts for forest retreats and meditated there, gathering alms for their morning and evening meals in villages. Some who were unable to meditate settled around villages and compiled texts, and came to be known as 'Ajjhayaka' or 'they who do not meditate'.
Some others paired off, adopting many trades, and came to be known as Vessa (traders), which means 'various'. Some went hunting, and were known as 'Sudda' (hunters) or 'they are base who live by the chase'. All the castes' origins were in accordance to the 'Dharma' (and how it was interpreted), and not by others. Some Khattiyas, Brahmins, Vessas and Suddas who were dissatisfied with their own 'Dharma', renounced household life to be wandering Ascetics.
Karmically, anyone who was ill in thought, word and deed, and had wrong views would be reborn in a lower realm in suffering, while anyone who was good in thought, word and deed, and had right views would be reborn in a higher realm in bliss. Those who have mixed karma experience mixed consequences, while those properly restrained could eradicate their defilements and attain Enlightenment, becoming chief among others in accordance with the Dharma, such as the Buddha, whose wisdom and conduct is the best among humans and gods.
(Source: http://thedailyenlightenment.com/2010/03/how-were-the-%E2%80%98first%E2%80%99-humans-%E2%80%98created%E2%80%99-part-1-sutta-summary/)
---------------------
问:什么是生与死?
仁波切:佛教相信轮回,在轮回中身心不断流转,身和心的状态不断改变,而轮回的流转却永不止息。例如:一个人死了,进入轮回的中阴身,身与心将如影随形,像水和杯一样,可以不停地改变形状;就像电线和电,电线如身体,电如心。如果用来开动电脑,就有电脑的应用,如果用来开风扇,煮咖啡.......也能呈现出不同用途。
当身体转为动物,人类或鸟兽时,心的功能将随之改变。


问:生命的意义是什么?人生的目标是什么?
仁波切:对于一般的人来说,人生的目标就是获得快乐,每个人都在找寻快乐,盼望快乐,但是对于我们,在佛教来说,
生命的目标就是认识本性(本来面目);照见你身心中本有的佛性。如果你觉悟到你的本性(佛性),那么,你人生的目标就是获得解脱。
问:什么才是真正的快乐?它和世间的快乐有什么分别?
仁波切:真正的快乐发自内心,不假外求。世间的快乐,一般会心随境转,例如拥有物质,不一定快乐,也许有一点点快乐,但它会随着境遇的改变而改变。
真正的快乐,本自具足,不会因外境的转变而转变。
摘录自香港佛教刊物《温暖人间》,於今年9月采访明就仁波切。
(source: https://www.facebook.com/photo.php?fbid=1131285686951507&set=a.817931468286932.1073741829.100002102608833&type=3&theater)
--------------
心的明光是自我照亮的,猶如蠟燭的火焰一般,既是光明的
來源,也是光明本身。
"明"從無始以來就是心的一部分,
是"本具"(本來就有)的覺性,因此,我們無法像利用體
能訓練來鍛煉肌肉一樣,去"鍛煉出覺性"。覺性不是"被
訓練出來"的,
你唯一要做的就是去認出它,只要注意自己
是"覺知的"就行了。
My teachers described the
clear light of mind as self-illuminating
– like the flame of a candle, which is both a source of illumination and illumination itself. Clarity is part of the mind from the beginning, a natural awareness. You can't develop it the way, for instance, you develop muscles through physical exercise. The only thing you have to do is
acknowledge it, simply notice the fact that you're aware.
~ 詠給明就仁波切《世界上最快樂的人》Yongey Mingyur Rinpoche "The Joy of Living"
(source:
https://www.facebook.com/kagyumonlam/photos/a.313376598711076.66951.303948426320560/1202293853152675/?type=3&theater)
Need time to digest...